Salut
J ai vu cette moto sur FB j ai trouvé ça étonnant  
je savait pas trop ou le mettre mais comme c est un deux temps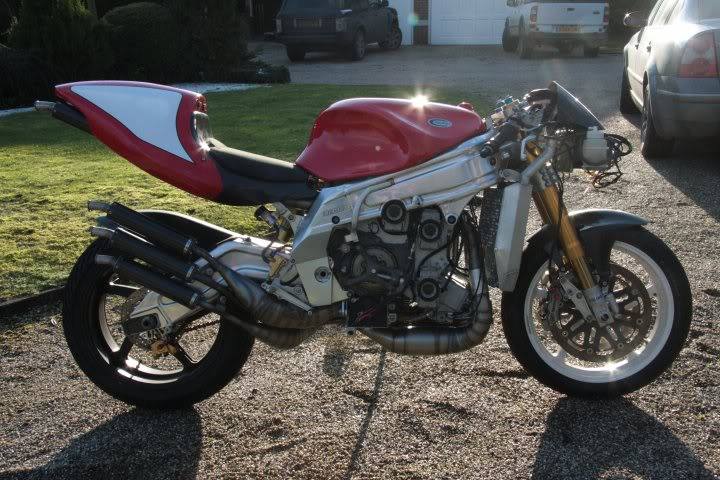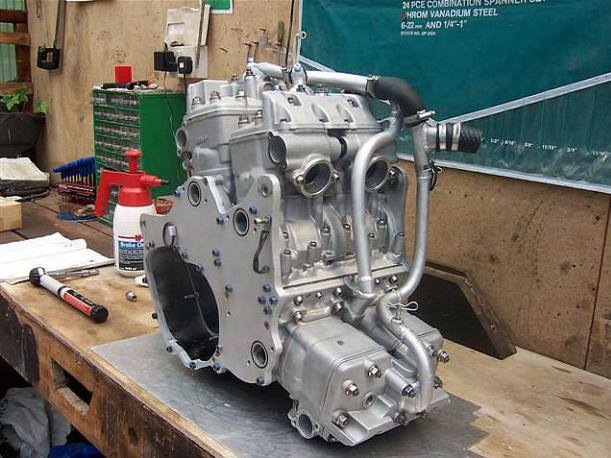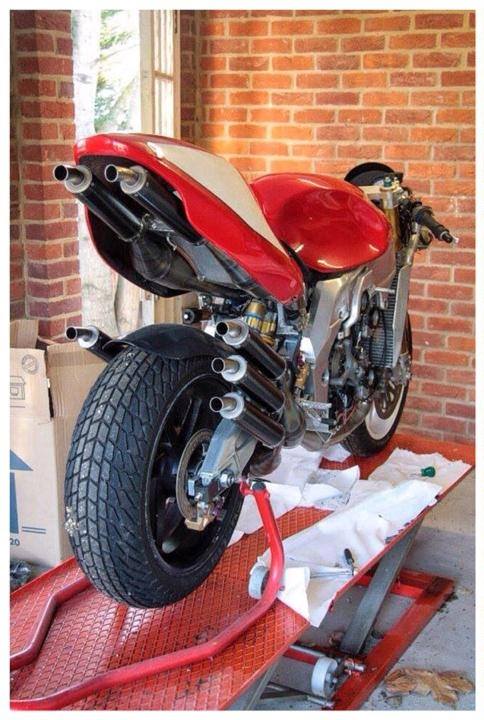 Okay time for something out of this world. Let me introduce the CoMotor RG750. This machine was produced in 90's and completed early 2000's. Yes this machine collaborates an RG500 engine with an extra pair of copied cylinders via a completely custom gearbox/crankcase and ignition.
The rough spec. a complete write up and history of the bike can be found bellow:
~165hp ~160kg
Harris YZR500 frame customized
Harris 1 off GP radiator
RG750 custom engine (RG500 + extra crank & two cylinders)
RGB500 dry clutch
AP racing dics & 6 pot brakes
Marchesini wheels
Ohlins GP forks & rear shock
Custom carbon fiber fairings
Custom fully programmable F1 ignition
Custom Titanium expansion chambers
It started in 1993 when a man named Les Coe who wanted to buy a new road bike but there was nothing on the market that he fancied. He wanted a 2 stroke road bike but this was the age the 2 strokes were dying out. Through racing Yamaha TZ bikes in the 70's he had close contact with the likes of Pete Gibson of the exhaust fame, two-stroke genius Dave Blundell of Lotus Cars and the Harris brothers. Exactly the kind of blokes you want to know if you fancy building a GP bike for the road. Because the RG500 engine was still at it's peak in the road going world he based his deign around that. Dave Blundell assisted Les in taking moulds of the cylinders, working out that he could gain 165HP total with 6 cylinder instead of 110 from the standard 500 engine which had 4 cylinders. Lot's of work was involed in meshing the pilot gears for the extra crank lower down. Due to the RG500 crank cases being modded not recasted the bike still uses almost completely original Suzuki parts, it's design is based on a wide V4 with extra 2 cylinders formed like a delta. Giving it's name "CoMotor Delta 6"
Once the engine was formed, it was time to lower it into a Harris Brothers YZR500 frame who at the time were licensed to build private Yamaha racing spec frames. It was modded to suit the new engine which turned out to be quite a complex job mounting it so that the side mounted rotary valve carburetors would fit in. The stock water pump was removed to make way for a Swissauto GP pump to keep the extra 2 cylinder also a Harrison GP radiator was placed to keep things cool and also to allow for the 165HP compared to 110HP. 2 RG500 stock oil pumps were fitted to insure the cylinders are constantly lubed. The rest of the bike was kitted out to whatever money could buy. Marchesini Wheels, Ohlins front suspension and rear shock. AP track discs with six piston calipers. The best electrical part was the Formula One ignition designed to fire in a 360 firing order just like the stock bike, In the end it was decided a 180 degree firing pattern was better to suit 2 pairs of 3 cylinders. Carbon fiber air ducts where produced to insure the carburetors never ran out of puff. An RGB500 was fitted to keep the power constant to the rear wheel. Next was time for the exhausts which Pete Gibson stood up to take on the challenge, full titanium systems with carbon end cans were made. Because Les loved the T750 designs he made sure majority of the silencers exited on one side. everything else was finished of in titanium such as all nuts and bolts, FRZ projector headlight hidden in the nose with titanium mechanisms. All bodywork is carbon/Kevlar to keep the bike light and agile.
Once the bike was ready it was dynoed which really didn't go to plan, on it's first run the pilot shaft running the 3 cranks gave way due to it being made from a dampening material. The fix was to make a full CNC shaft which will take the power of an extra crank. Once it was back up on the dyno she sure did sing. Firing on all cylinder it puts out 160HP on average and combined with its weight of 160KG it puts out 1HP per kilo, which means it's up there with the bikes of today such as the S1000RR. Also close to the 500GP bikes screaming at 180BHP @ 145KG. It's an incredible project with an insane group of minds behind it. With a price of £55,000 in total Les claims it's hard to go do it yourself!